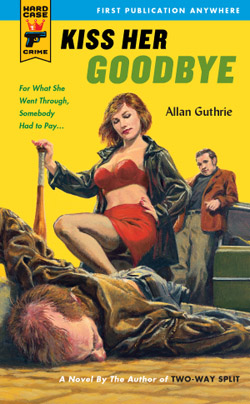 ALLAN GUTHRIE
(
Kiss Her Goodbye
)
Allan Guthrie's first novel, Two-Way Split, was shortlisted for the CWA Debut Dagger Award and his short stories have appeared in a variety of magazines and anthologies. He is also the creator of the Noir Originals Web site and commissioning editor for both Point Blank Press and the Pulp Originals line of e-books. Guthrie lives in Edinburgh, Scotland, on whose mean streets his books are set
Q1.
Hard Case Crime
seems to have become almost a sub-genre over the last five years. To be involved in it must feel like you've become part of an exclusive club. What have been some of the highlights of this membership?

Any club that lets me in can't be that exclusive! But, yeah, when I signed my contract with Hard Case I was unpublished. For a new writer trying to kickstart a career, Hard Case was a godsend. Charles Ardai had a very clear vision of what he wanted to do, and the passion and expertise to make it happen. So although I was signed up very early on, I knew I was in safe hands. Highlights for me have to include being edited by Charles, who is one of the most insightful editors in the business, and the Edgar nomination that ensued. The latter would never have happened without the former.
Q2. It's all about hardboiled, noir and pulp fiction at Hard Case Crime. The golden age of paperback novels in revival. What do you think the future holds for this type of book?

When I first started writing in 2001, noir was a dirty word. The market's a lot more inclusive now, and noir has become much sexier (that's a technical term used in marketing, btw). Hardboiled/noir/pulp is still a niche market, but it's a lively one and if it continues to attract good writers, it'll be around for a while yet.
Q3. One of the most striking things about the Hard Case novels is the beautiful cover artwork. How did you feel when you first saw the cover for your book? How did it compare to the conception of the characters you had in mind when you were writing your book?

I'd have to add seeing the cover for the first time as one of the highlights of my HCC 'membership'. Charles asked if I had any ideas for the cover, so I mentioned a particular scene that contained some interesting dynamics. And a few weeks later, he sent a mock-up of exactly that scene. When I first saw it, I couldn't believe how breathtakingly brilliant it was. The artist, Chuck Pyle, did a helluva job. The characters bear absolutely no resemblance to the ones I had in mind when I was writing the book, but that's not a bad thing.
Q4. What are some crime novels or authors, either within or outside Hard Case, that have impressed you this year?

I'll restrict myself to Hard Case-type noirs or we'll very likely be here till Hard Case's 100th anniversary. Bent cops have made quite an impact this year. Dave Zeltserman's SMALL CRIMES is his best novel to date, with the promise of even better to come next year with PARIAH. Another bent-cop noir is Anthony Neil Smith's YELLOW MEDICINE, with a sequel due out next year called HOGDOGGIN', which blew me away when I read it in manuscript. Tom Piccirilli's become one of my favourite writers over the last couple of years and THE COLD SPOT is a terrific noir about a getaway driver (check out last year's THE FEVER KILL too -- a modern Gold Medal if ever I read one). Debut Canadian author Mike Knowles wrote a hardboiled gangster novel called DARWIN'S NIGHTMARE that reminded me an awful lot of Paul Cain's THE FAST ONE (Knowles's book is intelligible, though!). Christa Faust's MONEY SHOT is a superb unsentimental hardboiled revenge story. SEVERANCE PACKAGE is another classic from Duane Swierczynski. Here in Scotland, Ray Banks continued to show why he's one of the best crime writers in the country with NO MORE HEROES, Edinburgh got a new voice in Tony Black's Gus Drury, who debuted in PAYING FOR IT, and Dundee finally got on the crime fiction map with Russel D McLean's dark and lean PI debut, THE GOOD SON.
Thank you, Allan Guthrie!